Cost –
Membership dues - $80 (First 2 years waived)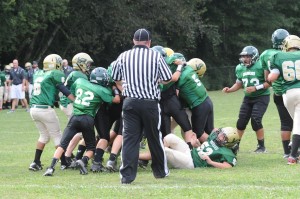 Black pants with white stripe from Honig's - $45
2" Cliff Keen striped shirt with collar for all GHSA games - $34 (short) $40 (long)
Skinny striped shirt with collar for non GHSA games with no patch - $26-35
Black hat with white piping - $13
Yellow penalty flag - $7
Down indicator - $4
White bean bag - $6
Fox 40 whistle and lanyard - $10
Shoes must be predominantly black - $45 and up
Training –
NWGFOA has meetings every Monday night from July - mid September at Dalton State College. Meetings begin at 6:30pm and comprise of mechanics training and rules discussion. It is vital that all officials study the rule book and mechanics manual on their own between meetings and throughout the season.
Assignments – www.gameofficials.net
NWGFOA makes game assignments, at all levels, through an internet-based service called Game Officials. It is required that you have internet access, an email address, and that you check both your email and Game Officials several times per week during the season for assignments and changes. It is very important that you update your availability as soon as you know that you are not able to work on a particular date.
Commitment –
During the season you are expected to attend meetings on Monday nights. In the spring and summer you are expected to take part in pre-season scrimmages, passing camps, and state-wide clinics as your work situation permits. Throughout the season NWGFOA has games practically every day of the week. You are expected to officiate your fair share. When working a game you are expected to follow the NWGFOA Dress Code.
Payment –
All officials are paid at the end of season banquet in early December. NWGFOA collects all game fees and then issues each official a check along with an IRS Form 1099. All officials are paid the same amount for each game: $65 for sub-varsity, $96 varsity, $48 ECO (electric clock operator on Friday night). Based on each officials availability, it is very likely that first year officials will work multiple sub-varsity and recreation league games in a week. As a first year official your varsity assignments will likely consist of the ECO position.