Why NWGFOA?
Since our inception in 1946, NWGFOA has a commitment to excellence in football officiating  that is unequaled. Our membership is a diverse,
professional and dedicated group that is committed to providing the highest level of officiating to all the Georgia High School Association member schools.  
We cover the greater NW region of Georgia from Rossville to Adairsville, Rome to Blue Ridge and all parts between. If you're wanting more information about what the first season as a NWGFOA official is like visit What to Expect. We are taking applications for the 2015 season.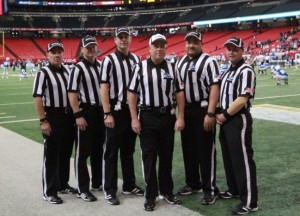 Someone from NWGFOA will contact you closer to the start of the 2015 season  and answer any questions you may have. 
We are coming off a season that saw the GHSA select one of our crews to officiate a state championship game for the  first time in nine years. There is a strong sense of accomplishment amongst the members of NWGFOA but we are not satisfied. We are committed to improving upon an already strong team of officials.  The 2015 training schedule will be released soon.
Upcoming Events
6:00 pm, June 29, 2015 – Season Kickoff Cookout
N/A,

July 11, 2015

–

July 12, 2015

– 7 on 7 Passing Camp
8:00 am, July 11, 2015 – Mechanics Camp (Westminster)
8:30 am, July 18, 2015 – GAOA Conference
N/A,

July 25, 2015

–

August 16, 2015

– Online Clinic
8:00 am, July 25, 2015 – Mechanics Camp (Woodstock)
Previous Case Book Review Question
K1 punts from midfield and R1 gives a fair-catch signal at R's 10-yd line. R1 muffs the catch and R2 recovers at the 1-yd line and his momentum takes him into the end zone where he is tackled.
 RULING:  This is R's ball at R's 1 yd line. The play ends as soon as R secures possession because of R1's fair catch signal. Momentum is ignored and the whistle should be blown immediately upon R's possession at the 1 yd line. (6-2-2, 6-5-5)
Case Book Review Question

Loading ...
"Football officials get themselves into twice as much trouble for what they say than what they do. You can't misquote silence!" Don Wilson
WCFOA Director of Officials
Training Video of the Week